The Story Behind the Stencil
Carving Out Creativity in Everyday Life!
Our story begins like any other – with a vision. We believe that decorative art should be easy enough for anyone to create, which is why we do what we do. Stencilmonkey blends the beauty of art with the precision of technology to bring you high-quality stencils for coffee, business décor, your home, and everywhere in-between.
Stencilmonkey is the brainchild of Michel Bawardi, an artist and business psychologist who has always used stencils in his art. After hitting a creative roadblock, Michel teamed up with Razikul, a graphic designer with a gift for stencil design. Together, they built StencilMonkey from the ground up – but not without the help of Ana, who swiftly joined the tribe to simplify and streamline stencil production, shipping, and logistics. With Ana's help, StencilMonkey could reach a broader audience and bring their creative magic to more monkeys around the world.
Today, StencilMonkey is the jungle that people flock to for wild stencil designs you won't find anywhere else. From company logo stencils to wedding décor stencils, custom coffee stencils, and so much more, StencilMonkey is where creative magic comes to life.
P.S. If you were impressed with the coffee design of your last latte anywhere in Europe, chances are, Stencilmonkey was behind it. We've come a long way so far, and we can't wait to see what's next!
Why Stencilmonkey?
We're Pro Graphic Designers
Every Stencilmonkey creation is born at the hands of our professional graphic designers who have years of experience. From digital design to bold street art, these talented visual connoisseurs are passionate about creating works of art every single day.
Variety
Explore our ready-made stencil designs or send us your own in the form of a sketch of photo. No matter what you choose, all stencils are made to order for your peace of mind.
We Love A Challenge
Worried your design is too complicated for us? Rest assured that our pro designers can handle whatever you throw at them. While complex, intricate designs would stump most manufacturers, we're not most manufacturers! We love a challenge, and we won't shy away from yours.
Unmatched Quality
All Stencilmonkey stencils are brought to life using our state-of-the-art laser machine. Such advanced equipment means we can cut with incredible accuracy down to the finest detail.
Premium Materials
While most "similar" stencils out there are only available in 250 mic or less, ours are made using 14 mil or 350 mic thick mylar foil, a stable and highly durable material that attaches easily to any surface and offers impressive moisture resistance.
Order Custom Stencils Online Today
Ready to get creative with us? Order one of our ready-made stencil designs or upload your image now. We can't wait to make some stencil magic, together.
ORDER CUSTOM STENCIL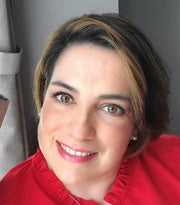 Ana
Stencil Production and Shipping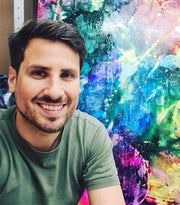 Michel Bawardi
Visual Artist and Co-Founder